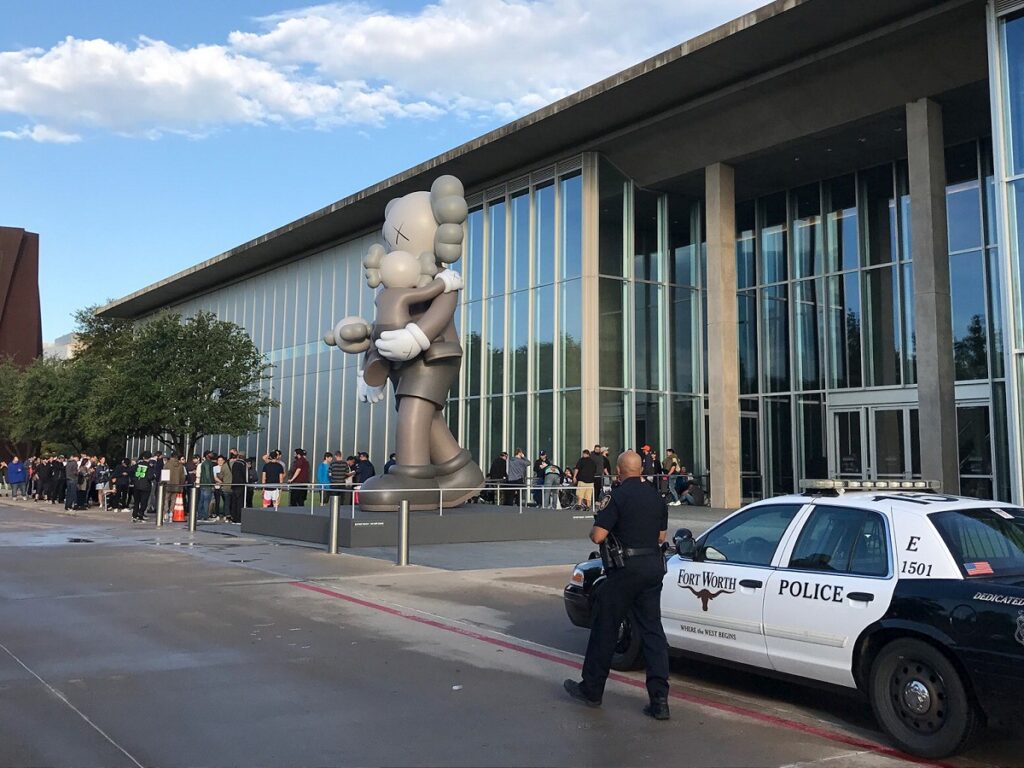 KAWS: WHERE THE END STARTS
---
The Modern Art Museum of Fort Worth presents a major survey exhibition of the work of Brooklyn-based artist KAWS (American, born 1974), on view in Fort Worth, Texas, October 20, 2016, through January 22, 2017, and traveling to the Yuz Museum in Shanghai, China, March 10 through July 31, 2017. Organized by the Modern's curator Andrea Karnes in close collaboration with the artist, the exhibition KAWS: WHERE THE END STARTS and the accompanying catalogue explore the breadth of the artist's career from the 1990s to the present, revealing critical aspects of his formal, conceptual, and collaborative developments. The exhibition includes approximately 100 works, with key examples of KAWS's paintings, drawings, large-scale sculpture, graffiti, and products such as toys and apparel.
Over the last two decades KAWS has built a successful career with work that consistently shows his formal agility as an artist, as well as his underlying wit, irreverence, and affection for our times. By straddling the normally separate divides between art and design, he holds an atypical position, but not without art historical precedent, between the commercial and fine art worlds. Like artists such as Andy Warhol and Keith Haring before him, KAWS is one of the most influential artists of his generation, and his imagery is highly sought-after by his fans outside of the art world, making him a pop culture sensation.
Working within the tradition of Pop art, KAWS draws inspiration from art history and the animated cartoons he grew up watching. He is best known for his cast of characters with X's for eyes and skulls and crossbones for heads that convey universally understood aspects of human nature. Executed in a clean, graphic, and energetic style, his work is instantly recognizable. Though KAWS has invented many characters, his three most iconic figures are COMPANION, inspired by Mickey Mouse; CHUM, a derivative of the Michelin Man; and ACCOMPLICE, an adorable bunny that resembles a plush toy with long ears.
KAWS explains, "COMPANION is a figure in the world now, and it's not all great out there. He deals with life the way everyone does. Even though I use a comic language, my figures are not always reflecting the idealistic cartoon view that I grew up on, where everything has a happy ending. COMPANION is more real in dealing with contemporary human circumstances. He reflects attitudes we all have. I think when I'm making work it also often mirrors what's going on with me at that time. Things change — sometimes it's tense in the studio, other times things are happy. I want to understand the world I'm in and, for me, making and seeing art is a way to do that."
Karnes comments, "KAWS's toys and larger-than-life sculpture of hybrid cartoon/human figures are the strongest examples of his exploration of humanity. They reflect emotions and situations we can all empathize with in presentations that are balanced with humor, heartening in their cartoon aesthetic."
Blurring lines between high and low art and fashion, and selling on all levels of the market, the artist has been wildly successful and enthusiastically collected by his massive fan base, which includes a large faction of youth around the world (from the Japanese otaku culture to China, Latin America, and the United States), as well as significant art collectors, also on a global scale. KAWS's work is exhibited in prestigious institutions and collected by important museums internationally.
In 2011, the Modern Art Museum of Fort Worth featured KAWS's work in a small-scale solo exhibition as part of the FOCUS series. From that exhibition, KAWS's painting WHERE THE END STARTS, 2011, was acquired for the museum's permanent collection. In 2012, his work returned to the Modern when his much-loved COMPANION (PASSING THROUGH), 2010, was installed outside the museum's main entrance. Now five years after KAWS's work debuted at the Modern, he is back on a grand scale with this twenty-year survey exhibition, with WHERE THE END STARTS occupying the entire first-level galleries, with some sculpture situated on the museum grounds.

Modern Art Museum of Fort Worth webpage
---
---