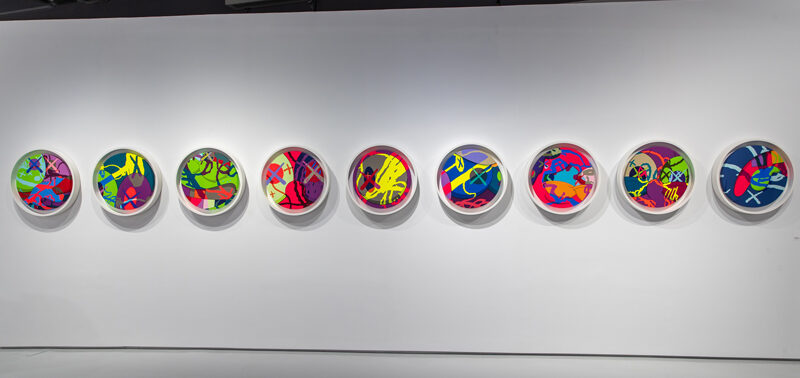 KAWS: HE EATS ALONE
---
Qatar Museums partnered with curator Germano Celant and KAWS to design the 2019-2020 exhibit KAWS: HE EATS ALONE at the Doha Fire Station. The exhibition explores the extremes of the artist's work: large-scale painting and sculpture on one side, mass-produced toys, sneakers and other small-format sculptures on the other. Each building facade is marked with site-specific murals in collaboration with the artist.
The Garage Gallery is designed to dislodge the typical white box typology. While seemingly indeterminate or random, the exhibition layout loosely articulates four smaller rooms carefully calibrated to anchor and frame the paintings and sculptures. This controlled chaos offers alternate, non-linear routes and sightlines. Across the courtyard, the upper-level Archive vitrines display meticulously arranged KAWS products, blurring the boundary between art and commerce. Following the logic of the main Garage Gallery, the vitrines appear to be sliced, stacked and rotated into place, once more skewing the sense of level ground.
The branding and design system developed to complement the exhibition design consists of large scale graphics, artwork labels, advertising, and an exhibition catalogue. The catalogue includes a photo essay, following the visitors' experience through the two exhibition spaces, and features gatefold spreads that open to reveal additional details related to individual artworks.
The solo show explores his career and vast oeuvre and features painting and sculpture made over the past 20 years. KAWS' imagery has long possessed a sophisticated, dark humour, revealing the interplay between art and consumerism, referencing both art history and pop culture. Donnelly began his career in street art in the 1990s, becoming synonymous with the name KAWS, a tag that became a staple in his 'sub-vertisments' (modifications of commercial works).